Angel Investor News decided to go behind the scenes and explore some of the less exciting sectors of 2020 that still show real growth potential in retail.
According to the headlines, the retail sector has faced store closures, epic business failures and job losses in 2019 as the internet has driven growth and competition away from the high street.
Successful angel investors have always had a knack of looking past the dramatic headlines and seized opportunities where others chose not to venture.
These same angels have now started to look at retail, not as a sector in decline, but a sector in transformation with new channels of the internet & social media driving growth to high street stores.
For the first time ever, high street retail is not only relying on high street footfall and traditional shop front advertising but on the internet to drive retail growth.
In this article we are reviewing passport photo processors and digital print specialists operating on London high streets. Some readers may find this a strange sector to review, but this sector has been very well established since 1918 and has faced many changes over the years including biometric guidelines on passport photos and a new system of UK Digital photo codes being released by the UK government making it harder for the general public and amateur photographers to obtain passport photos that meet the criteria online.
1918, as a matter of fact, was the year that the first ever passport photo was created, capturing an Italian individual smoking a cigarette and reading a newspaper. Obviously in 2020, almost a hundred years later, passport photos have changed a fair bit. You are not allowed to wear jewellery in your ID photo let alone read the newspaper whilst taking a passport photo.
We have split this review into three sections. The established, the up-and-coming and the traditional passport photo processor.
The up-and-coming passport photo processor on the High Street: Reload Internet Passport Photos in Paddington
Located on the high street on Praed Street in Paddington, opposite Paddington station on Praed Street and the London Hilton Paddington. Reload Internet is a highly rated passport photo service and Print and Photocopy shop that can print in documents in standard A4 and A3 and also supports poster printing in A2, A1, and A0.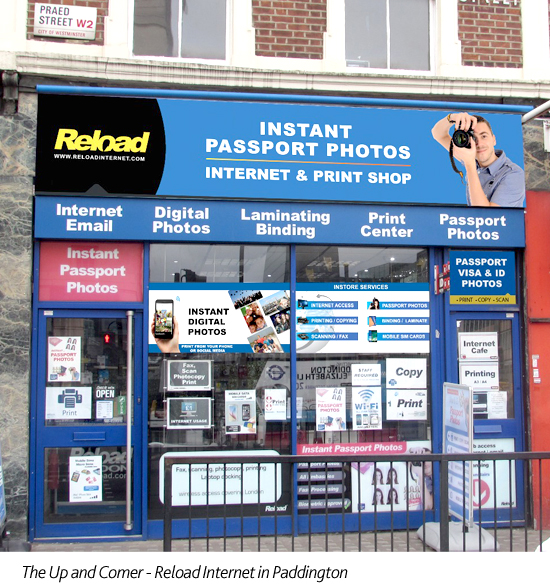 Reload specialises in providing clients with printed passport photos for the UK and all countries in the world including Indian passport photos, US, Canadian and chinese passport photos. Reload Internet can take Passport photos for any Country of the World.
Reload Internet has the latest lighting technology, with lighting that drops down from the ceiling and they had all of the background colours in store including Grey (recommended for the UK believe it or not), blue, white, and even red.
After a brief interview with the Founder, we also learned that many Photo Booths and Kiosks were not capable of printing specifications and unique size requirements for many countries around the world.
Angel Investors have noted that the high street is
'… a sector in transformation with new channels of the internet & social media driving growth to high street stores.'
Reload has one of the biggest social media presences online, boasting over 300 YouTube videos on passport photos specifications worldwide.
An example of 1 of the 300 videos that Reload Internet has produced for Passport Photo specifications worldwide
Its such an impressive feat as each video is individually scripted. Their social media extends to facebook and instagram – but their website Reloadinternet.com also has over 350 pages boasting over half a million words and has become a resource for people all over the world to find out what passport photo specifications are required for each country. Every passport photo specification for every country in the world can be viewed from their directory.
Reload not only prints and creates printed passport photographs but also offers a wide range of services such as high volume printing or scanning document facilities, wire binding, document binding, thermal binding and A4 laminating, photo prints and photo printing is available in store in multiple photo sizes.
Reload Internet are OCI agents that have provided OCI application help to over 1500 applications in the UK according to the Founder. An OCI is a lifelong visa that is available for Indians that have roots to India and provides them with all the benefits that an investor or entrepreneur would have in India including being able to invest in stocks, bonds, property and equity in India.
Speaking to the Founder of Reload that established the business some 20 years ago, the main point of a passport photo or visa photo is that it should be taken to the exact guidelines as per each country's embassy – and there is, and never has been 'one size fits all' and Reload Internet is known to ensure that customers passport photos meets the criteria that the digital passport photo rules require that meet biometric standards.
Certain countries visa requirements include digital copies of the passport size photograph which is instantly available at Reload Internet. Unlike photo booths that do not provide these services.
Reload Internet have all of the Digital printing, professional photography equipment and computer skills to create guaranteed approved passport photos in both a Digital passport photo format and hard copy format.
Reload can also take baby passport photo or infant passport photos. Reload has very patient team of staff members and will treat and care for the child like he or she was their very own.
Reload Internet understands the requirements and unique sizes required for each country's Visa and Passport photos and we customise print these photos regularly in store.
In a world where consumers are becoming more and more faceless – clients really appreciate the knowledge, and genuineness of the Reload Team.
This is important because Angel Investor News extensively reviewed the online reviews of Reload Internet in Paddington vs Photo Me International and Snappy Snaps and Reload Internet in Paddington has almost built a positive 'pulp fiction' cult status on google compared to the traditional and established.
This is not by accident according to the Founder of Reload Internet:
'Reload Internet culturally has ensured every single staff member is trained and equipped to specialise in over 200 passport photograph specifications. Each team members knowledge makes us the number 1 passport printing photo center in London. Clients are very appreciative of the care, comfort and genuineness each staff member provides at Reload.'
Reload internet is known in being perfect at what they do. At Reload Internet in Paddington a detailed manual is created for all specifications of passport size photographs. This manual contains embassy requirements for over 200 countries. Not only are the requirements of visa listed but also for passport application. For example if you need passport photos for Argentina as specifications such as backgrounds with any form of patterns are prohibited, only white backgrounds with a three-quarter profile of the applicant from the right.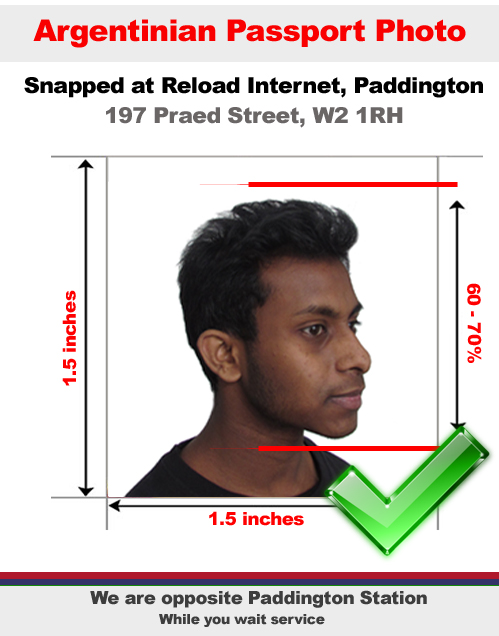 IMAGE COURTESY OF RELOAD
Angel Investor News asked about the future of the company. This is the first branch – and they are doing so well, that an Angel Investor responsible for growing Whittards has already expressed interest in investing to take the brand to the next level. The Founder, cautiously, wishes to open a 'few more branches' to prove its viability on the high street, before looking at franchising to grow the chain. We wish them the best.
If of interest, Reload Internet can be contacted from this link.
Visit: Reload Internet
The Traditional – Passport Photo Kiosks
Photo me International have the largest range of photo booths located in the UK and all over the world. They are in main line stations and also in Paddington Station.
They are listed on the FTSE AIM stock exchange and not only do they provide passport photo services from their kiosks but also laundry functionality. Luckily in Paddington Station we found no laundry facilities (that would have been odd) but it is a strange pivot for such a traditional business that says it focuses on passport photos to take. Could this indicate that their market is shrinking resulting in them taking bold positive action, and they are realising that the future is no longer in self operate passport photo kiosks.
The cost of Snappy Snaps and independent operators were so close price wise that it made me wonder exactly what the competitive advantages are of using a Passport photo booth? Reload Internet as an example is open till 9pm, 7 days a week, and with studio level lighting gigs and experienced well trained staff to meet you and answer any questions you have seems to be the winner here.
Recently, Photo-me has received an onslaught of multiple negative reviews about their Passport Photos in the UK. These have included customers giving feedback on poor lighting, high risk of failing, and no one to physically reach out to if something went wrong and customers have strongly reported online that their passport photos were rejected across various platforms including visa or passport application, driver's license etc.
Photo me International's share prices has had a steady decline only now in December 2019 stabilising at historic levels. At the beginning of last year the expected sales were also less in the second half. The amount of free cash flow generated from operations declined due to high levels of capital spending. With the expected slow down to continue Photo me expected a £2m downfall.
October 2019 indicated a strong difference between the issued price and the current price, i.e a difference of 1.7. Angel Investor reports also state that diversification of the company is not considered a growth industry and therefore because of this the markets views the shares trade on very low PER rating than other companies in that industry.
The Established – Snappy Snaps
Snappy Snaps the much loved chain founded in 1983 by Don Kennedy and Tim MacAndrews and has about 120 franchised outlets in the UK. Originally, branches specialised in straightforward photo processing but now the focus is more on gift items.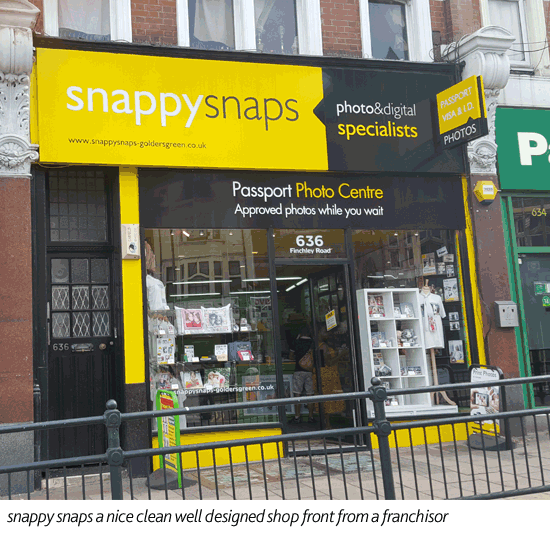 Photo of traditional store of Snappy Snaps taken for Angel Investor News
The outside of the shop, had the clear prominent signs with yellow being the main insignia colour – and it is an exterior that we have all come to love or hate. Interestingly, when we think of Passport photos – the majority of us do think of Snappy Snaps, and this is the biggest challenge, small retailers like Reload Internet face. Changing the minds of consumers to use them.
However, small retailers with the help of the internet have been able to challenge large chains like Snappy Snaps.
Snappy snaps have plenty to offer for clients that want to place their photos in new places including t-shirts, mugs and even custom printed analogue clocks?
Franchising, the group is growing – but it is important to note – ID photos can be a large percentage of a units turnover – based on the amount of shop front advertising used for Photo IDs and UK passport photo digital codes – which comes back to why a small company like Reload Internet may be the winner in 20 years or so – they are able to pivot and change their offering very quickly, whereas, Amazon could choose to offer prime delivery mugs and tshirts in a moments notice which is Snappy snaps biggest threat over the near term.
Visit: Snappy Snaps
In Summary:
Our research showed that are reasons why you should think twice about using a photo booth in Paddington or any other Kiosk – Poor lighting, risk of failing, and no one to physically come back to when things go wrong.
The quality of the passport photo may meet the criteria required for the Embassy and this where a small retailer like Reload Internet wins over Photos Kiosks.
One point we note is that the high street retailers like Reload will deal with any issues that their passport photographs face at any Embassy ensuring to take these pictures again free of cost. Photo Kiosks can not get in front of their customers in the way a High street passport photo processor can, and this will be the photo kiosks biggest downfall.
Consumers will vote with their feet ultimately, Angel Investors will invest where they think the greatest growth will be in 20 years, and publications like Angel Investor News have the responsibility to sometimes give the underdog a helping hand. Just a personal opinion of course. Let's see if I am right over the next 20 years.
Tim Schumacher
Multimedia Reporter & Sector trend analyst
Angel Investor News